Masi Speciale LTD Nekkid R.S.S. (2009 - 2011)
By Nekkid on 05/16/2009.
Bike tags: Fixed gear | bike | bikes | Box | dog | fixed | gear | kmc | ltd | masi | Nekkid | nitto | oury | San Francisco | single | speciale | speed | spinergy | steel | Track | Velocity | Wienmann Track Bike |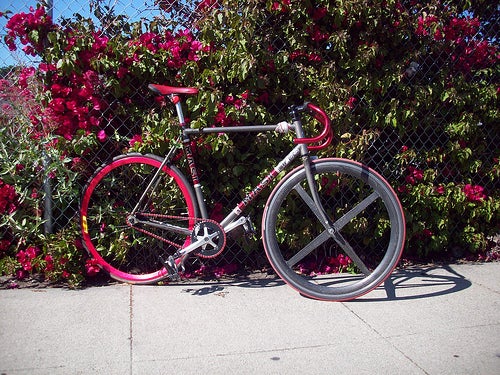 Click to view other photos

09 Masi Speciale LTD Nekkid

Nitto Anodized B123 Red Track Drops, Dimensions Flip Stem

Masi lugged chromoly steel

Velocity Black Deep V, Formula Hubs

Velocity Deep V Anodized Red / Formula Hubs

Sugino RD2 Messenger, TruVativ square taper BB

MKS GR9 Platforms, Anodized Red All City Cages, All City Double Toe straps KMC Red Hollow Chain

Sugino 44T Chainring, DuraAce 15T Cog
2009 Masi Speciale LTD Nekkid Red Sonic Solara (R.S.S.) I Bought this bike only a week after it was released. It was complete stock and over the months i have added my own flair.
The Ultimate plan is to eliminate all of the chrome/silver parts and replace them with either Red or Black/Gray pieces.
The next batch of parts are Red Sugino Crank arms and a Red seat post.
Many Thanks To Box Dog Bikes Of San Francisco for helping me Build up this Machine and The San Francisco Bike Kitchen for the teaching me the Knowledge of these beautiful bikes