Univega Alpina dropbar retro MTB
By saccade on 04/28/2009.
Bike tags: Mountain bike | 1980s | Alpina | barcon | black | Deore | dirt drops | drop bar | LX | midge | mountain | MTB | pink | retro | Seattle | univega | xt |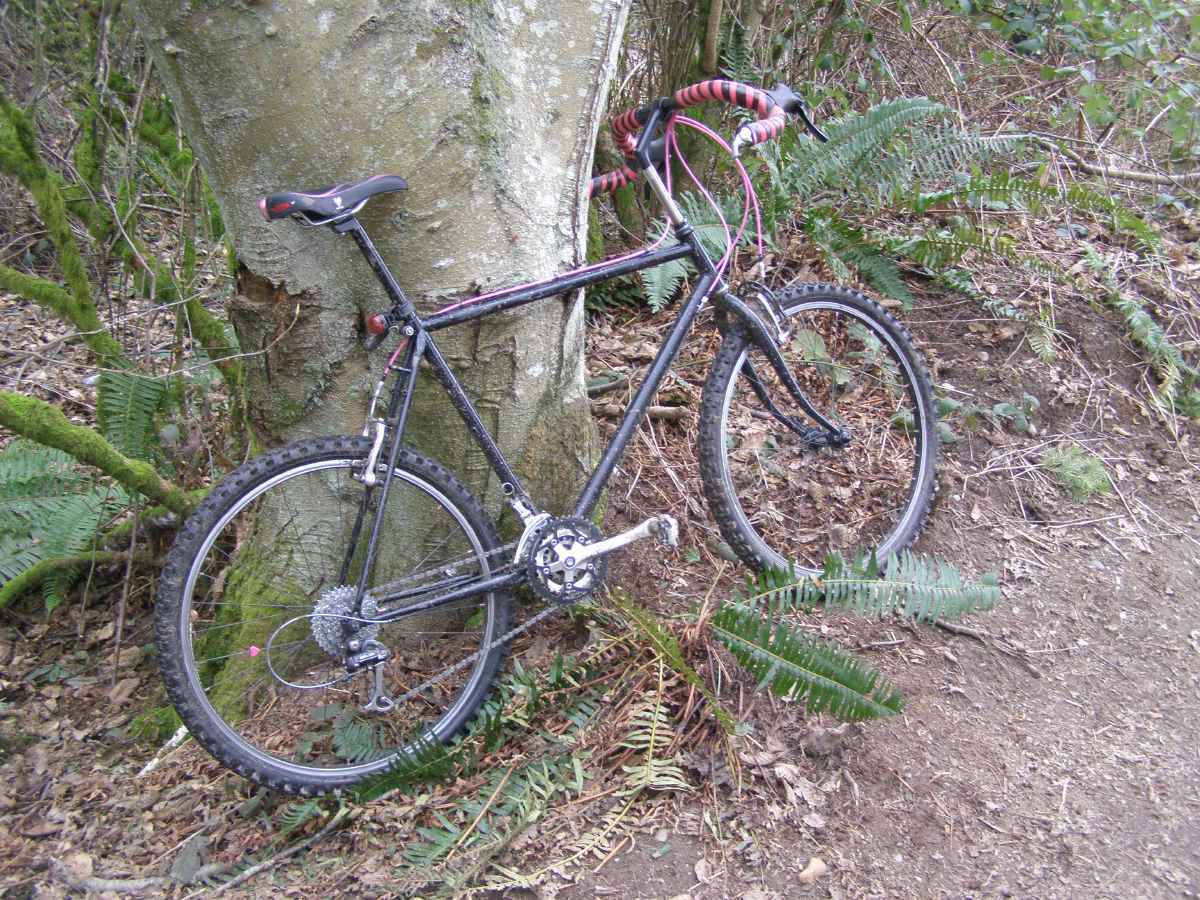 Click to view other photos

1988 Univega Alpina Uno LX, red spackle paint job which faded to pink. note spare spokes used as chainstay protecter.

On One Midge bars, dirt drop clone stem, Tektro RL520 levers and ultegra barcons

Deore hub, Wheelsmith DB15 black spokes, pink anodized nipples, Sun CR18 rim

as above with Deore LX hub and black brass nipples on drive side

Deore XT M737, microdrive 20-32-42.

WTV Rocket V Race. Not just pink, a very comfy saddle I also use on my touring bike.
I wanted to try dirt drop bars, and the very '80s pink spackled paint on this frame spoke to me. Drivetrain is an assemblage of '90s parts. Frame was coldset from 126mm to 135mm.
Pink cabling is Jagwire, brakes are Deore XT with the parallelogram linkage.
The bartape is soon to come off in favor of track grips. It seems that unlike with road bars, dirt drops should be wrapped from the top down as your hands push forward when riding in the drops.
Planning on swapping the big chainring for a 44 or 46.. I'm a ride-to-the-trailhead guy and this bike motors along pretty well on the road. The bell also comes in handy
I'm off mountain biking for a few weeks due to a hairline clavicle fracture, but I've found the midge bars are awesome for getting around town without upsetting my shoulder... very natural hand angle and can be gripped very loosely.
Weighs in at 28.6lbs