1984 Raleigh Marathon tourer
By Skylar on 04/12/2009.
Bike tags: Road bike | raleigh marathon | Reynolds 502
Click to view other photos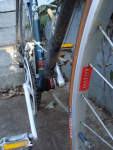 Panasonic-designed Raleigh Marathon Sport Tourer, Reynolds 502 tubing. Two-tone green and silver paint, gold headbadge

Sakae Ringyo stem & Sakae Road Champion Drops from a Centurion Super Lemans, Suntour barend shifters.

Stock steel fork, headset is boring

Stock 27" Raleigh alloy / Gumwalls

Stock 27" Raleigh alloy / Gumwalls

Old Brooks B-17. Unknown alloy fluted post. SR?

Alloy Sakae SP-100 quills, old leather straps
Great deal on a nice 80s tourer. It kept its' gears.
It was sitting next to a rough Centurion Super LeMans, previous owner took the stem, crank, bars and swapped them from each bike before he or someone donated them. He installed Suntour barend shifters on the raleigh as well. I don't know why he put the Raleigh stem in the Centurion, but maybe his riding companion needed a longer stem or something.
The Marathon was a nicer bike in every way, so I chose it over the LeMans. Money prevented me from buying both and the Centurion was just as much money as the Raleigh or else I would've bought as well.
Not much rust, paint is good, no frame damage.. I put new gumwalls on it and an old Brooks B17 on it as well as black cork, and gave it to my girlfriend of about one week, at the time. I love to give cool bikes to good people.