2009 Cannondale Capo
By thomasandrewww on 04/11/2009.
Bike tags: Track bike | 56cm | Boise | cannondale | Idaho | track bike | velopirate |
Click to view other photos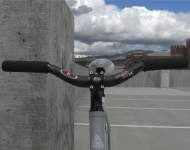 2009 56cm Cannondale Capo

Easton Monkey Lite Carbon riser, stock Cannondale 100mm stem

Kona Retro lugged cromo fork, stock Cane Creek Alloy integrated, 15 mm top cap

Low flange formula track hub, Black Velocity Deep V

TruVativ Omnium Track Crankset, Gxp

Ti railed white Turbo, Thomson Elite

Kona Jack Shit, Sram PC-1

18 tooth surly cog. 70 gear inches.
got a great pro team deal on it.
super stiff and responsive, super fun to climb hills with.
on another note i have nothing but problems with the bottom bracket shell on this bike. we will see very shortly if it is cracked..... bummer