C.ITOH Submariner Stainless Steel Conversion
By screamingveg on 02/02/2006.
Bike tags: Fixed gear | C.ITOH | Columbus OH | conversion | stainless steel | Submariner |
Click to view other photos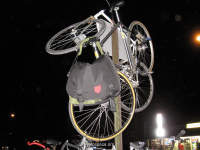 C.ITOH Stainless Steel with Aluminium Lugs

Risers with some Bar ends for more positions. Quill adapter and a ritchey pro because my LBS doesn't stock good quills.

front rim from an old Lotus

generic rim with flip/flop hub from LBS

Sakae SA 170s, original BB

saddle from my old Trek 4300 Alpha Aluminium Custom, original seatpost
This is a rebranded Kabuki Submariner.
It's very fun to ride now. Brakeless is awesome with the clipless.
This bike was stolen at 1:30AM May 6th of 06.
If you see it on ebay or craigslist, please tell me. The parts list above is what it had on it when it was ganked.