54cm Geffsco Custom Pursuit
By Bubblewraplastik on 04/01/2009.
Bike tags: Track bike | brazed | cxp 30 | dura ace | fillet | fixed | mavic | Track |
Click to view other photos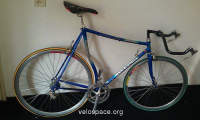 44cm Modolo road bars, 3t 100mm stem

aluminum fork, Shimano 105 headset

Mavic CXP 30 3 cross to Suzue Pro Max SB

Mavic CXP 30 3 cross to Suzue Pro Max SB

Dura Ace Octalink track cranks, Dura Ace Octalink road BB

Specialized Toupe Ti Saddle, SR proprietary seatpost
I moved to SF and took this, a small bag of clothes, and my camera gear. This is my favorite ride so far, and my most favorite feature is the slight cut out in the seat tube for the rear wheel. The rear wheel actually makes contact with the seat tube before the track ends run out. Also, all the tubing is tear dropped or aero'd; even the brake bridge.
I love riding this more than telling people about it. It always sounds like bragging.
I purchased this from Graham from NY(The purple Spicer custom pursuit) who bought it from Andy Scott(?).
If anyone knows more about the builder, Jeffrey Scott from Australia, I'd be welcome to hear about it.