Adeline
By le gauche on 01/21/2007.
Bike tags: Fixed gear | Road bike | Commuter | nishiki fixed conversion
Click to view other photos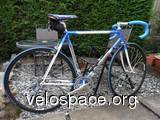 flip-and-chop champion bars, or nitto track bars
My first conversion so far. Bought it at a thrift shop for . I've been adding on to it ever since; new wheelset, new tires, etc.