Casati Pista -original full Super Record
By hardsole5280 on 03/18/2009.
Bike tags: Fixed gear | Track bike | campy super record | Casati | colubus SL | hardsole | hardsole5280 | Italian Steel | Pista | track bike | vintage |
Click to view other photos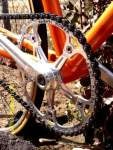 80's Casati track frame, pearl orange, campy drops, columbus SL tubes (lighter than SLX!) mint.

3ttt with casati colored inlays

Campy record on tied and soldered ambrosia pista color sewups

Campy Super Record/Campy Super Record

Suede Turbo on Campy Super Record Post, mirror polished with colored inlays
All orig. All Super Record, 15.5lbs as pictured without pedals.
This bike is now for sale @ 00. Please note this is a wall hanging museum quality bike- not suitable for road use. 55cmx59cm (low and long)
This bike will not be shipped. *she has been sold. Biggest mistake I have EVER made.