Bianchi Minimax Rare Find
By bianchitifosa on 03/14/2009.
Bike tags: Fixed gear | Single speed | Track bike | Road bike | Bianchi | columbus | edoardo | EL | fixed | fixie | Max | mini | Minimax | panto | pantograph |
Click to view other photos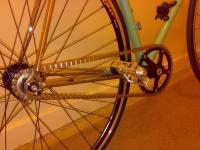 Bianchi EL Fork, BBB Turnaround Headset

Goldtec Hub, Mavic CXP 33 Rim

Goldtec Hub, Mavic CXP 33 Rim

Campagnolo Mirage Crank, Campagnolo Centaur Bottom Bracket

Selle Italia SKN Titanox, Limited Edition

MKS Track Pedals, Gusset Slink Bling Half Link Chain

Surly 14t Fixed Cog with 39T Campagnolo Mirage Crank
This is a fixed gear bike built around a Bianchi Minimax Nivacrom Frameset with Bianchi Chromed EL Forks, dating from 1994, it was built as I remembered riding a fixed gear Holdsworth bike about 6 years ago, and was keen to regain that fixed gear feeling!!!