Bianchi: Celeste the greyhound Featured Bike!
on 03/26/2012
By eaglerock on 03/08/2009.
Bike tags: Road bike | 1980s | Bianchi | c-record | campagnolo | celeste | columbus | East Bay | oldie | racing | steel | vintage |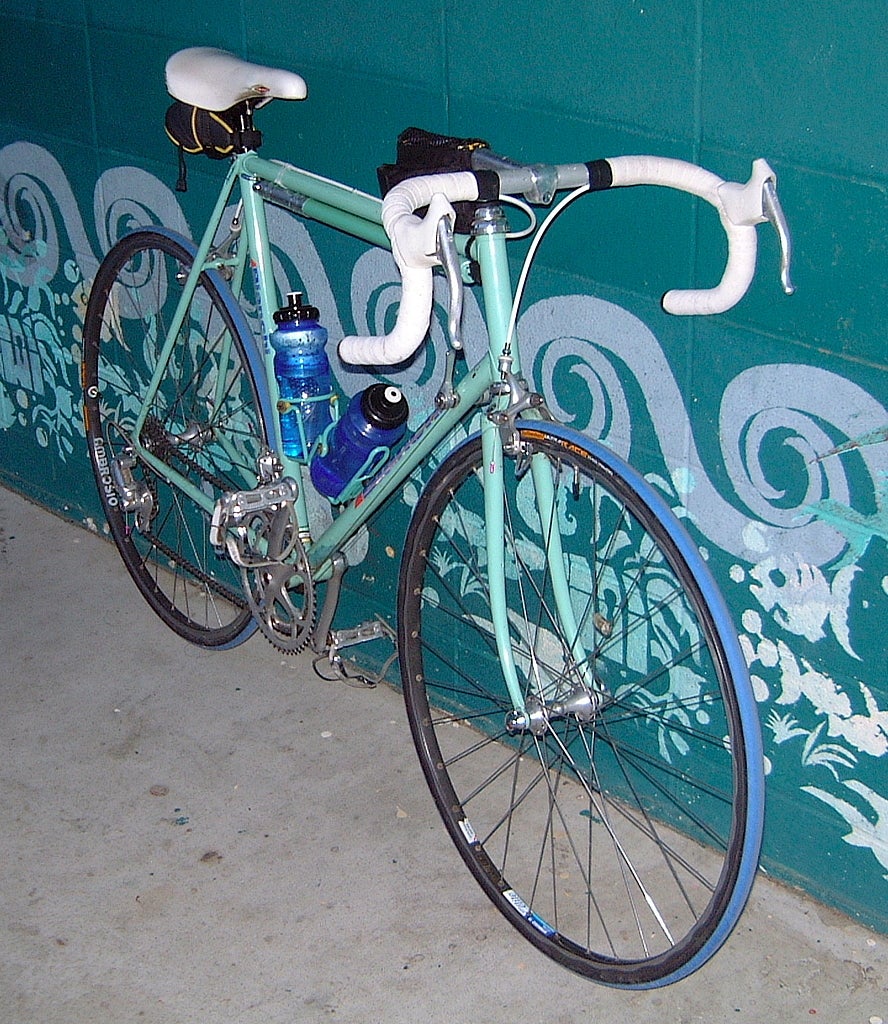 Click to view other photos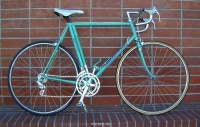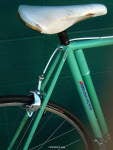 1988 Italian-made Bianchi (model and tubing as yet undetermined - probably a Superleggera, possibly a Mondiale)/Gipiemme dropouts

Cinelli Campione del Mondo/Cinelli 1A

Bianchi (Columbus SLX)/Campagnolo C-Record era (haven't checked yet to see if it's Record or Croce d'Aune/Chorus)

Campagnolo C-Record low-flange hub/Ambrosio 19 Extra Super Élite rim/Panaracer-Rivendell Ruffy-Tuffy

Campagnolo C-Record low-flange hub/Ambrosio 19 Extra Super Élite rim/Panaracer-Rivendell Ruffy-Tuffy

Campagnolo Chorus 53/39; Campagnolo loose-ball (C-Record era)

80s Selle San Marco Rolls/1989 Campagnolo Record straight

MKS Sylvan road; Campagnolo toeclips; Christophe straps/SRAM PC870

1989 Campagnolo Chorus shifters/derailleurs

1989 Campagnolo Athena brakes/Record-Delta brake levers

Suntour AP 13/15/17/19/21/24/28
2009.04.24: Hey, Hyde: This first photo's for you, fer raggin' on my missing bartape ;-)
Every bike build has a story. This one does, too. More to come...and new pictures of the near-finished build, too, as soon as the rain lets up.
December 4, 2009: I replaced the blue Contis with 700x28 Panaracer Ruffy-Tuffys, for a cushier ride. Then I busted the rear axle, which I am still to nervous to replace. More photos as soon as I've gotten my courage and done the work.
June 2, 2010: I finally did a gut-check and replaced the rear axle/rebuilt the rear hub in late March, preparing to haul the Bianchi to the Trailhead Bike Swap. The hub build actually went more smoothly than I'd feared it would, and the hub's a bunch smoother now that I've cleaned out the 22-year old crunchy dry Campagnolo grease. The bike didn't sell that day, and I put some mileage on it in April while my Raleigh was undergoing BB+crank surgery.
It's a much more pleasant ride than it was when I first built it; it's what started to convert me to the Rivendell "bigger frame" ideology. Stretching out on a bigger frame is a lot easier on my old-guy back.
However, I ride the Raleigh 90% of the time, so the Bianchi is sorta for sale...I'm following up with Bianchi USA, where the receptionist has generously offered to look through the late '80s catalogs to identify the frame so I can get the correct decals.
Still need now photos, though.
July 28, 2010: Final Campy-fication is in sight! I won a pair of Triomphe aero pedals with clips, straps and reasonably intact square dustcaps on eBay the other day. I'll take new photos as soon as they're installed.
Finished at last...
August 2, 2010: I installed the Campagnolo Triomphe pedals the other day, and took Celeste out for a ten-mile midnight ride. The pedals are the bomb: Solid and rigid. Plus, they came with blue Christophe straps, so I have more blue bike bling. Now I really need new photos, which means I have to clean a year's worth of road schmutz off the bartape and lever hoods.
January 24, 2015: Geared down with a 13-28 Suntour freewheel to replace the earlier 13-23 Regina, for a group ride in the Woodside area in San Mateo County. I should have done this years ago; not only do crawly gears give me the ability to get around in the hills, but I can finally get some use out of the big chainring. I was also forced to switch pedals, because I didn't have toeclips for the Campagnolo Triomphes long enough to seat the slots on my current toeclip shoes. If anyone has replacement plastic cleats for the ones I wore out on my Sidi Titaniums, drop me a line.