Riggio Pista Special SL
By nichkov on 02/20/2009.
Bike tags: Track bike | columbus | italian | riggio | Viner
Click to view other photos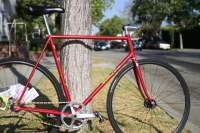 alexrims r390 / formula 32h radial / vittoria zaffiro pro 25c

alexrims r390 / formula 32h 3x / vittoria randonneur 28c. HED disc for the track.

SRAM Omnium 167.5mm / Truvativ GXP italian

LOOK Keo Sprint / Izumi V Supa Toughness
Rides awesome. Apparently Riggio was a private label out of NYC through Viner. No idea on the year. Fork clearance is very tight with a 25c. I had to drop the wheel in the fork drops a little so it would not rub. I can barely ride no handed because of how twitchy it is. Toe overlap as well with clipless pedals. The rear wheel could be tucked much more as you can see, but I'll need a half link. Plus the 19 tooth is huge! Track build coming soon.