Fuji Track Pro 08 56cm
By eisoh on 02/19/2009.
Bike tags: Fixed gear | 08 | deda | FTP | Fuji | Fuji Track Pro | fuji track pro 08 | HED 3 | soma everwear | Toshi | toshi double straps |
Click to view other photos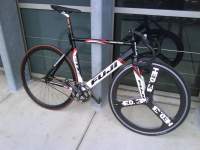 Deda pistas, Torelli 35 degree drop stem

Stock Fuji Carbon fiber fork, cane creek headset

32 Velocity Deep V, formula hub

San marco blaze saddle, easton e70 carbon seat post

Mks sylvan pedals, Soma Quad Gates, White Toshi Double Straps/ x2 speedplays, Izumi Super Toughness V
I finally finished my build. Thanks everyone for helping me with this beauty.