Miele 80's Road Bike--"Condor"
By pegacycle on 02/18/2009.
Bike tags: Fixed gear | 80's | ambrosio | Condor | fixed gear | miche | miele | Terry |
Click to view other photos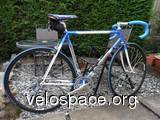 80's Miele Condor Road Bike, steel (forgot the exact tubing)

handlebars cut from a recycle bin, stem is unrecognizeable

Mystery steel fork from Gooch Cycle, chrome, unspecified headset threaded

just a good old cartridge bottom bracket from Shimano, Sugino something or another crankset

Terry Saddle, mystery seatpost

Some pedals I ordered from Marinoni, Wipperman Anti-Ros Chain BMX

15:38 I don't remember the front chain ring or cog
I found some accidentally ergonomic tricycle grips to match, it's hot.
Cane Creek Cross Top Brake Lever, Jaguar cable and housing, Tek-tro (sp?) dual pivot long reach something or another brake...I will later fill in the details (as well the stinking pictures won't load, regardless of my efforts). Fork is not original, I had to put a cheap fork with greater clearance so I could ride this machine in the snow. I run Ritchey cross tires (31's). But considering the winter/snow/snirt/dirt/iceland that Winnipeg is...I might just go against the grain and ride a studded front tire. I'm more into riding my bike wherever I want instead of worrying about being fixed and hip.