Homewrecker!
By philos on 02/17/2009.
Bike tags: Fixed gear | 42/15 | 42/16 | 54cm | Bareknuckle | Burbank | campagnolo triomphe | fixed gear | mini tt protector | Pista drops | Student | teal |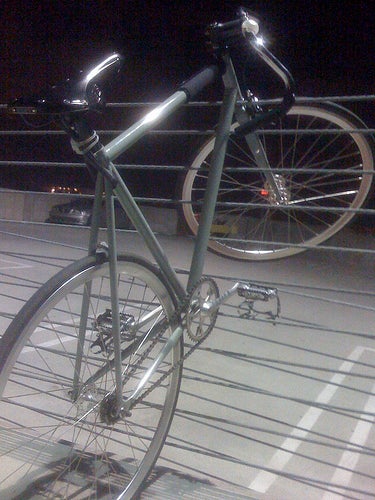 Click to view other photos

Cleaned Bianchi pista drops. On-One stem.

Bareknuckle fork. Cane Creek S-3 headset.

Deep V. Conti Gatorskinz 700c x 23mm. No name hub...

Deep V. Soma Everlast 700c x 23mm. Again, no name hub...

Old Campy triomphe cranks. Don't know about the BB will find out soon enough...

Brooks B17 saddle. Thompson seat post.

MKS GR-9 track pedals with Soma double cages and double straps. KMS chain.

42t chainring. Fixed/Fixed hub with 15t/16t DA cogs.
I really need to update these pics, they're all I have for now. The pista drops as well as the new pedals and straps aren't in the current pics. I plan to eventually do some other stuff, maybe throw a new paint job, but so far she's my new love. My girlfriend has dubbed her "Homewrecker" :D