Box Dog Pelican Fixed Gear Randonneur
By zugsterbags on 02/01/2009.
Bike tags: Fixed gear | Road bike | 58cm | Box Dog Bikes | classic | fenders | generator | pelican | phil wood | schmidt |
Click to view other photos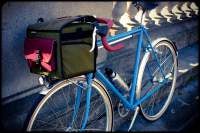 58 cm Box Dog Bikes Pelican

Nitto Noodle (44cm) and Nitto Technomic (8cm)

Schmidt SON20R dynamo hub, Velocity Synergy rim

Phil Wood high flange fixed/free, Velocity Synergy rim

1973 Dura-Ace crank, Velo Orange BB
After 2 years without a fixed gear bike, I've just finished this fixed gear randonneur. Featuring a Nitto M12 front rack, lots of shiny bits everywhere, and soon to be custom matching luggage.
Many more details (and many more photos) on flickr. Most of the shiny bits are from Velo Orange.