The bike formerly known as RAPatcha (she is no longer)
By ImOnCrank on 01/25/2006.
Bike tags: Track bike | broken | dead | doored | fixed | keirin | njs | RAP | round breeze | Track |
Click to view other photos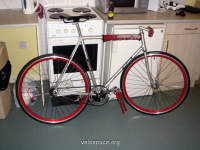 Mid-90's 56cm RAP Round Breeze (NJS)

Trashbin chopped black flat bars/Nitto 100mm alloy drop stem (NJS) or Nitto B123 38cm steel drop bars (for the track).

RAP Round Breeze/Suntour (non NJS)

3X HF 36h Dura-Ace HB-7600 (NJS) on Velocity Deep-V. Rubino Pro tyre.

3X HF 36h Dura-Ace HB-7600 (NJS) on Velocity Deep-V. Conti Super Gatorskin tyre.

Black Sugino 75 Cranks(NJS) w/ 49t Sugino Mighty Competition ring(NJS)/Sugino 75 BB(NJS)

Black Brooks B17/Dura-Ace alloy post (NJS)

Super dark blue HKK Vertex (NJS) chain, MKS Royal Nuevo (NJS) pedals with Toshi Double straps

Current: EAI 19t cog, Soon: 19t EAI cog/16t D/A cog (NJS). Top tube protector 4916, Big Cheese BMX grips
This bike was an awesome, loyal, damned fun to ride steed for 6 months. However on June 27th, 2006 I was doored riding on broadway a block south of houston and she was forever destroyed. Pics to come soon. Fuck Robin D. Hafiz.