Gazelle Gold Line Racing, 61cm, 1992
By jan nikolajsen on 01/14/2009.
Bike tags: Road bike | 753 | Dieren | dura ace | gazelle | Gold Line |
Click to view other photos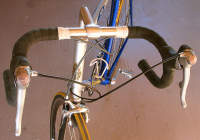 Gazelle made, possibly in Dieren, Holland, and possibly of Reynolds 653

Gazelle fork and Shimano 600 alloy headset

Dura Ace 36H, Rigida DP18

Dura Ace 36H, Rigida DP18, 8 speed cassette, 130mm spacing

Terry Fly and Gazelle brand post

Dura Ace 7402 brakes, first generation Dura Ace brifters, Dura Ace front/rear derailer
Check out my new Gazelle website
Purchased bike on Ebay in December 2008 for 460 Dollars.
This one is borderline vintage. Seller said 1992, which is supported by a serial # ending in 92. The frame, labeled Gold Line Racing, appears to be basically new. No scratches, no chain whips, nothing. The components are mostly 74xx Dura-Ace, and run the gamut from mint to worn out. Included was a bike computer reading nearly 10000 km on the odometer.
The seller, which is a well known European bike author, claimed it was custom built of Reynolds 653 for a PDM team mechanic, but the frame has no tubing decals. So an interesting mind game to figure it all out, but likely never will.
It is the youngest bike in my growing stable. I wanted to see what deep-V rims, dual pivot brakes and brifters are all about, so when I saw this Gazelle for a reasonable price I jumped on it. Carbon next?
The ride is interesting. It is amazing how they are all so different. This one has the shortest most compact rear triangle of any of my bikes, but also the longest toptube, 60cm. The result is a fast and swift accelerator that climbs effortlessly, but with a soft and wobbly front end. I haven't done any high speed descents on it yet, but I'm not sure if I look forward to it. Can barely ride it hands free without crashing! The wheel base is still a short 100cm.
Some efforts at finding out more about this model have been mostly unsuccessful. Any input?