Austro-Daimler Twins
By ted vasilow on 12/30/2008.
Bike tags: Road bike | A-D Austro Daimler SE Twins Puch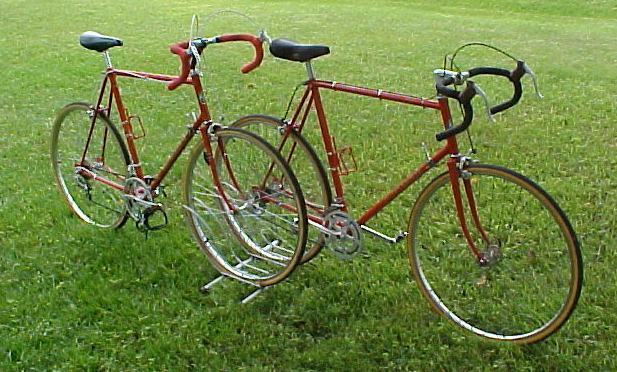 Click to view other photos

Orig.Alloy/Cannondale take-off GB forged and MTB Steel stem

Weinmann 27" Normandy, high flange 36h and Araya 27" alloy w/ vintage Shimano 36h

Weinmann 27" Normandy high flange 36h and Araya 27" alloy w/ vintage Shimano 36h

SR Apex 5 52-40 and Silstar 52/40. Shimano Cartridge BB (both) (Orig. crankset was Stronglight TS..rounded this one)

Avocet Racing 1/Alloy 25.4 Avocet Criterium/Alloy 25.4

Shimano SPD M520 and Dimension w.clips Sedis vtg chain/SRAM modern PC951

13/21 Shimano and 13/28 Suntour. Rear DRs fitted with Shimano Tourneys on both. Huret and Suntour on front.
One is original (except for the rear DR and crankset), and the other is not. The complete bike was bought in central PA, the other started as a frame/fork from Colorado for used on a trainer, but it has become a favorite. This winter the Colorado frame was rebuilt into a 12 speed using vintage parts. The original Huret rear DR was nice and light but the main spring was kaput. An early Shimano Tourney does the job. I may be dropped on the climbs but I'll catch up on the downhills...