Bianchi 1885 Italia
By studio alessandro on 12/25/2008.
Bike tags: Road bike | 1885 | 3T | american | Bianchi | campagnolo | celeste | centaur | classic | ergonova | Italia | Italy | red | Selle | Veloce | Velocity | white |
Click to view other photos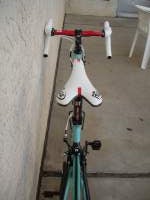 2008 Bianchi 1885 (49 cm)

2008 3T Ergonova Team (38cm), 3T Arx Team (110mm)

American Classic Micro 28, Sapim dbl butted, Velocity Aerohead white

American Classic Road 32, Sapim dbl butted (+ 3 standard spokes, one each red/white/green), Velocity Aerohead OC celeste

2008 Campagnolo Centaur Ultra-Torque

Selle Italia Thoork Team Edition, 3T Doric Team
Just trying to make a sexy bike. Finished up at a very nice 17.9 lbs, the lightest bike I've owned. Really inspired by nice fixed gears, but since I'm not a fixie rider I had to deal with finding the nicest road components I'd need for this frame. Maybe I'll build up a fixie someday... not that I could ride it.