1974 Schwinn Paramount
By velox on 12/23/2008.
Bike tags: Road bike | 1974 | Brooks | campagnolo | nitto | nuovo record | Regina | Schwinn Paramount | strada |
Click to view other photos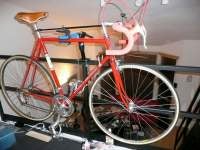 1974 Schwinn Paramount P13-9 (Road Racer), frame no. A7414, 23", Opaque Red

Nitto (have the original Cinelli stored)

Paramount, Campagnolo Reccord

Campagnolo tubular/ Campy Record Hub

Campagnolo tubular/ Campy Record Hub

Campagnolo Nuovo Record 170, 42/52, BSC 68-SS

Brooks Professional, Nitto
I recently completed the restoration. I've had it since 1986, where I found it on sale on consignment at a local bike store by UNM in Albuquerque. I think I paid 500 for it. Rode it like crazy for 5 years, and the paint got all scratched up from locking it to parking meters, etc. One day I decided to restore it, so I stripped the components in 1991 and prepared to have the frame shipped to Waterford. Well, it sat around for about 8 years. Then I had the restoration done, and the restored frame sat mounted on my wall for another 8 years, from 2000 until recently.
Recently heard its cries to be a real bike again, and started shopping around on craigslist, eBay, local bike stores for original and NOS parts. (I'd transferred most to my Bottecchia frame, though lost a few -- crankset, rear derailleur, BB -- due to wear. In retrospect, I should have fixed these instead of throwing them away. Live and learn.) Had the good fortune to find someone who was parting out a '74 frame with all Campy parts, to replace those that were lost, and to put duplicate shifters, headset on the Bottecchia.
Brakes, shifters, front derailleur, are the original parts sold with the bike in '74. I opted for Nitto seatpost, stem and handlebars, since the original 38 cm Cinelli handlebars, though high-quality, made me feel like I was cycling in handcuffs, and the NR two-bolt seatpost was always a pain to adjust. It's amazing what you'll put up with if you don't know any better.