1984 Peugeot PSV10 Fixed Gear 56cm
By fiataccompli on 12/22/2008.
Bike tags: Fixed gear | 56cm | fiataccompli | fixed gear | knoxville | lugged | peugeot | road | steel | super vitus | tennessee | Track | vintage |
Click to view other photos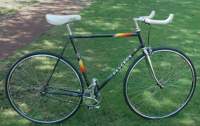 Super Vitus 980 lugged steel
No braze-ons were harmed to build this conversion. This was a simple reconfiguration of a great riding frame. Nothing too exotic here, but all the parts come together to make a very nice ride!