1972 Raleigh Professional Track DL-175 ('72 Ti Raleigh Team Colors) Featured Bike!
on 08/30/2012
By abstrait on 12/13/2008.
Bike tags: Track bike | 1972 | 59cm | 72 raleigh pro track | Campagnolo Pista | cinelli | Cinelli Track | FIAMME ERGAL | Raleigh Pro Track | raleigh professional track | Raleigh Team | raleigh track | Reynolds 531 | san marco concor supercorsa | worksop |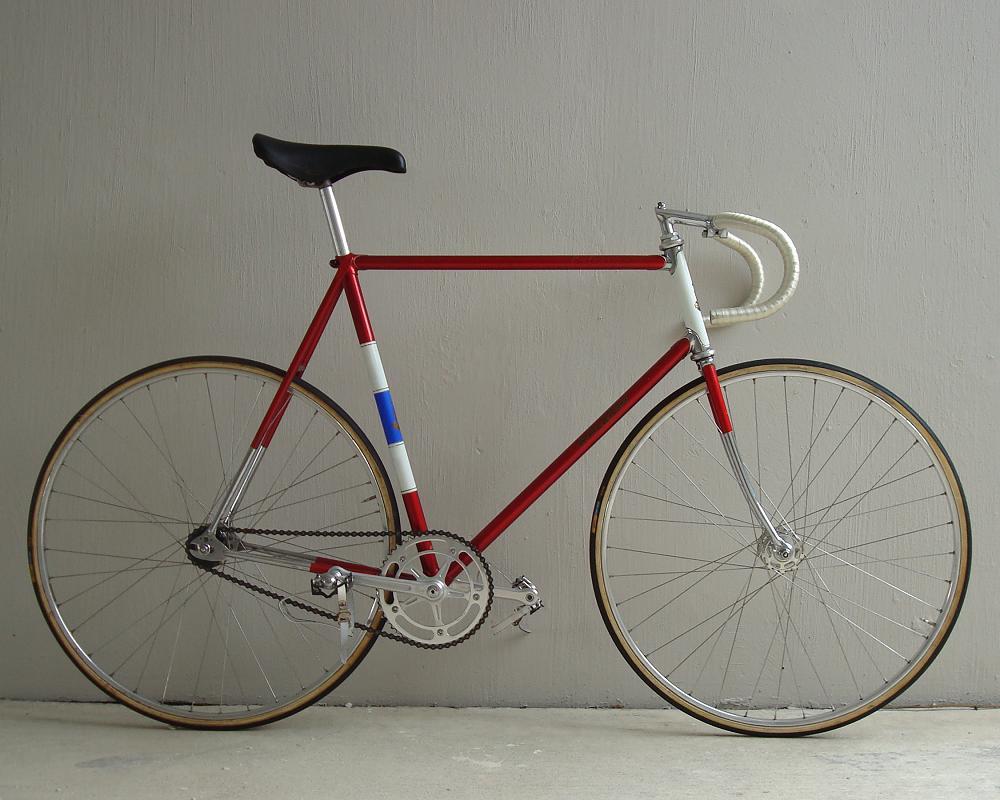 Click to view other photos

Reynolds 531 DB Tubes w/Large Section Chainstays & Forks, Campagnolo Dropouts, Latin Line Longpoints, and Chromed Headtube lugs

Cinelli Model 65 w/Benotto Cello / Cinelli Model 2 Track

Reynolds Round Section 531 w/Reinforced Crown ~ Campagnolo Dropouts ~ Campagnolo Pista HS

Campagnolo Pista HF Hub ~ 4-Cross to Fiamme Ergal Tubular (280g) ~ Clement

Campagnolo Pista HF Hub ~ 4-Cross to Fiamme Ergal Tubular (280g) ~ Clement

Campagnolo Pista 170mm ~ Campagnolo Record Pista

Brooks Team Professional or San Marco Concor Supercorsa Confort / Campagnolo Record 27.2

Campagnolo SL (Campagnolo SL Pista next), Campy Alloy Clips, Alfredo Binda Straps ~ Chain upgrade w/Pedals

16 / 50 Pista Chainring ~ 82.4 Inches
No Velocity Deep V. No colored rims with matching straps. No Day-Glo Paint. No spoke Cards.
Just one of the great classic vintage British track bikes in the rather rare '72 Ti Raleigh Team Colors with
Campagnolo Pista and über light Fiamme "Yellow Label" Ergal tubulars. The "G" date code frame was
made in 1972 but received '73/74 Raleigh brochure paint scheme from factory vs the '72 brochure Blue/white.
Hitting the road is always interesting. It's only a few that recognize this bike for what it is, a handful
feeling compelled to discuss with the ensuing ride and chat. Mostly they are over 45, reliving some past
memory from younger days. You never tire of talking about a great ride, especially if your own.
Part of the magic of this ride must be divided between the wonderful frame with it's balanced geometry,
great fork, and Reynolds 531. It's got great acceleration and handles amazingly all the while feeling
perfect for road or track. I must say a good part must also lie with this wheelset, with the uber smooth
Campag Pista hubs and super light Fiamme Ergal tubular rims. These @ 280g rims are made for riders in the
150lb range. Heavier riders need to be cautious on the road. Mine are laced 4X for better load carrying
since I'm in the 190lb range. Let me just say these wheels are the best I've owned and come up to speed
and spin so nicely, it's hard to get on anything else. I have two sets now for a backup.
It's a bike I've been wanting for too long to remember. So much more direct and alive vs road options,
options that stay on the wall in favor of this near 40 year old beauty.
Weight
Just under 18lbs w/Fiamme & Concor solution
Photos
http://i-vol.com/bikes/raleigh_professional/73_track/