FSC Made in France Road Bike 61CM
By CourageousLion on 12/09/2008.
Bike tags: Road bike | Cyclon | FSC
Click to view other photos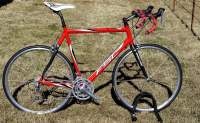 FSC aluminium with Carbon Seat stays

Ultegra 6603 and Ultegra BB

Selle Marco Regal and Aerus C4 post

No pedals for now, Ultegra Chain

12/27 Ultegra, Ultegra group
I bought this frame and parts off Ebay to see how inexpensively I could build a pretty nice road bike. Frankly it is about a twenty five hundred set up for about half of that! But YOU HAVE to shop and win the bids.
This frame, if purchased in Europe, costs 550 Euros which is equivalent to 750 US dollars. It is made of Columbus Aluminum and is finished off very well except in the bottom bracket area. A similar frame from some of the "top end" manufacturers is about THIRTEEN HUNDRED BUCKS!