Dan's Fuji Track Pro
By sfTrackPro on 01/21/2006.
Bike tags: Track bike | 58cm | Aluminum frame | Carbon Fork | front brake | Fuji | San Francisco | track pro |
Click to view other photos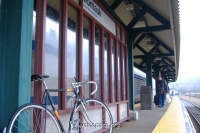 Forgie 3T stem, stock handlebars

Track Pro carbon fork custom drilled or brakes (sweet), FSA 36acb headset
Just got this bike via a silver lining. I had just bought a Fuji Track, cheap, but lovable. After riding for about a month a defect in the CroMoly caused the frame to snap! I could have been injured, luckily I was not. I went to the dealer, thinking they'd just give me a new Track, but the felt bad, so they gave me a new Track Pro, with a custom fork, drilled for brakes. I am waaaaay outclassed by my bike, but I love every second I have with it, it's a rocket, and it weighs nothing.