GT Bump (Traded)
By Andreko on 11/27/2008.
Bike tags: bump | fixed | GT | pink | rigged | BMX |
Click to view other photos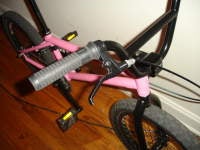 I rigged a fixed cog on this bike, if you werent careful it would throw you over the handle bars.
It was fun and a bit dangerous.