Chicago GT Pulse
By velosnap on 12/12/2006.
Bike tags: Fixed gear | chicago | Dean | GT | GT Pulse | superbe pro | track bike |
Click to view other photos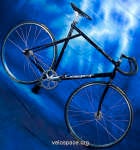 Old ITMs & a Black Dean stem (both will be replaced by 07)

stock GT frame set fork, DA head set.

Mavic Reflex (SUP "UB control") [grayblue color], with suntour superbe pro custom hub.

Mavic CXP 25 (SUP "UB control") [brightblue color], with suntour superbe pro custom hub.

Specialized crank set & BB

Saddle is crap and is no longer on the bike, seat post is a supper light nice AC.

Time Classique are in the shots but arn't on the bike anymore, the best damn chain ever- Izumi NJS "Super Toughness". [1/2x1/8]

DA 48,12. see you at the track but you won't see me ;O)
This is basicaly how i got the bike a week ago. The only changes i've made so far are the chain which was old and crapy and the tires which had rot like crazy. i've got Kenda L3R Pros on there now. The entire bike will be changed over very soon, i'm just waiting on parts. it'll have nitto 123 track drops on it in 07 as well as a 58 degree NJS nitto stem. the cranks to will go, and i'll most likly ride out the rims and replace them as well. the hubs stay for sure.
If anyone wants the DEAN stem it is a 100mm i think but will check for sure, it might be Ti and is in great shape (dates to late 80s early 90s)-make an offer.