1985 Fuji Espree Valite for Emily
By Skylar on 11/13/2008.
Bike tags: Road bike | fuji valite
Click to view other photos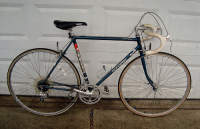 '85 Greenblue Fuji Espree

Nitto Olympiade bars and Nitto stem.

Sugino Post, garbage Sertas seat. I just got a great Ritchey Team Fuji Factory seat with the Fuji mountain stitched on ebay.

Your average lightweight road bike. I'm not doing anything custom to this one. Suntour gearing.
I love this bike. I found it for 25 bucks as pictured. I'm did some easy rebuilding on it, and it's now a great ride. I think it sat for a long time after a Kenyon college student rode it in the early 90's, as evidenced by the sticker.
After a free rear tire, bath, and new ritchey saddle, I invested 40 bucks total and Emily has a great new old bike just in time for her 20th birthday