Fuji Track 52cm
By CarlCK on 11/03/2008.
Bike tags: Fixed gear | alien bikes | Fuji Track | wound up
Click to view other photos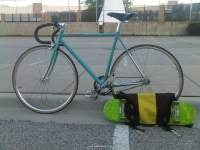 Fuji stock aluminum drops flipped and chopped/Black Nitto technomic 90mm

Threaded Wound Up Carbon/Tange Levin CDS Black

Vuelta XRP front deep track wheel/bladed radial spokes/formula hub- all black

Vuelta XRP rear deep track wheel/bladed spokes/formula hub- all black

tange square taper 68x107/alien bikes black track crank 46t

IRO black seatpost and saddle

Alien Bikes VP pedals/KMC purple Z-chain

16t Milawaukee Cog and Lockring
My first ride and daily ride up until September, 2008. I learned a lot and it rode great (the fork was really nice). Stolen out of a friends apartment in BedStuy.