pink pinarello
By atanz on 10/26/2008.
Bike tags: Road bike | 1985 | campagnolo | columbus | high flange | lugged | mavic | nyc | Pinarello | Treviso |
Click to view other photos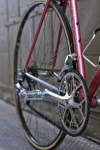 1985 Pinarello Treviso - Columbus SL tubing

3ttt - pantographed Pinarello

Pinarello with Campagnolo Victory headset

Campy Record high flange 36 hole hub laced to Mavic ma40 clincher rims with conti gator skins

Campy Record high flange hub with mavic ma40. continental gator skin clinchers

campy victory group with pinarello pantograph - chainrings 53-42

white selle turbo with campagnolo victory seat post

campy triomphe with clips and straps

i think its a Sachs somethin like 12-28
someone put a shimano 600 rear derailleur with index shifting - i guess they didnt like the old campy one. other than that - smooth and original from 1985. I'm the second owner and reserve this one for longer rides.