Faini Pista
By danchabanov on 10/19/2008.
Bike tags: Track bike | 3ttt | campy | Faini | hed
Click to view other photos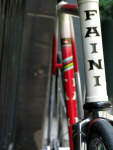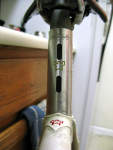 Faini cromed fork, black Gipeimme headset

Suntour Superbe Pro 28 hole laced radial to HED Jet

Suntour Superbe Pro 28 hole laced 2x to HED Jet

Campagnolo and Campagnolo

Look or MKS and Double Straps

50/19 Street 50/15 track 50/17 park
Dont know much about the frame. Cant really track anything down on it. Seems to have been made in Melegnano. The Columbus decal does not indicate a tubing type. Its a fairly heavy steel frame. Very steep. Fork will only clear 21c tires. Very fast on the track.