1960's Sears Flightliner
By blinkyoureyes on 10/02/2008.
Bike tags: Single speed | cruiser | flightliner | higgins | Sears
Click to view other photos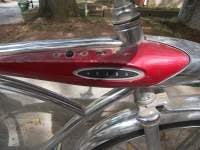 Original with two speed kickback
picked this one up from craigslist.
still need to clean her up a bit, but she is all original. so nice.
gonna get the lights and horn working inside the tank.