Bianchi Veloce - sold
By mattio entropy on 09/11/2008.
Bike tags: Road bike | Commuter | all-arounder | commuter | Criterium | road bike |
Click to view other photos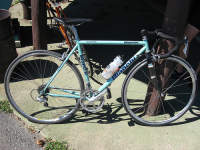 Early 2000s Bianchi Veloce

Ritchey BioMax shallow bars to a threadless adaptor and whatever stem

Campagnolo Athena, Mavic CXP21

Fizik Arione to Campagnolo
I picked this up for a good deal off of Craigslist, but it needed a bundle of work. It's my first road bike and I've been loving it for a year. Fast descents, longer rides, and spinning spinning spinning. It got me starting to train for track season early in the spring, and helped me work on my sprint training. I raced it in a couple road races and even took 3rd in the field sprint of a 4/5 criterium (my first!). I'm replacing it with something a bit fancier - I'll do more racing next season - and will sell the frame to a buddy who will put it to good use.
Like all good bikes, it's a tough little workhorse.