the Polterbike GTB
By CrashTest on 11/15/2006.
Bike tags: Track bike | deadly | GT | GTB | tits
Click to view other photos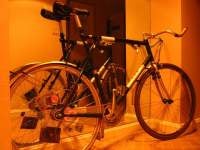 this bike has tried to kill me three times, sent me to the E.R. once.
Needless to say its my favorite bike so far...
assembled from junk/the remnants of the 3rensho. someday i might put fancy-doodle parts on her and see how light i can go. she's at 19.1 w/ garbage parts right now.