Eimei njs (Gone)
By cyclecrazyjames on 08/17/2008.
Bike tags: Track bike | 51.5 | eimei | njs | St. Louis
Click to view other photos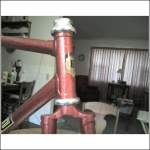 matching // hatta swan njs
Sorry for the bad pics, took them from my phone, still pretty good though!
Gone to a new home in Italy!!
i can sell outright, or trade for something else track, preferebly another track frame, just in a size 53 or 54 to trade for, just let me know what you have!!
beautiful frame!!!