George Longstaff racing trike Featured Bike!
on 06/30/2010
By polyglot on 08/12/2008.
Bike tags: Road bike | Longstaff | trike
Click to view other photos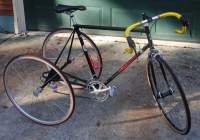 George Longstaff Fillet-brazed trike

Cinelli 1R stem, Cinelli bars

Super Champion Gentleman rims, DT spokes
Just the item for commuting in the winter snow. More fun than any two wheeled bike!