Bianchi Pista
By krnmk133 on 08/09/2008.
Bike tags: Fixed gear | aerospoke | Bianchi | campy | chrome | fixed gear | omega | Pista | rolls | san marco |
Click to view other photos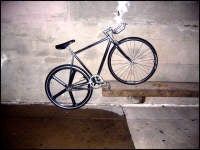 51cm Bianchi Pista Chrome

Nitto Bullhorns; Stock Stem

Campy Omega laced to Dura Ace Hubs
Flipped the fuji for this. Geometry is much better. Stripped the decals.
Looking for a similar gearing feel as 48/16 for more skid patches. 48/17 is too light. Maybe go for 49/17?