Gary Fisher HiFi Plus 29
By Velociphile on 08/07/2008.
Bike tags: Mountain bike | 29er | full suspension
Click to view other photos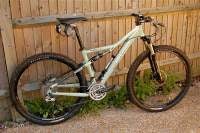 Bontrager Select Bars Easton EA50 110 Stem

Bontrager SuperStock running ghetto tubeless with Avid Clean Sweep 185 rotor

As front with 160 roundagon rotor
29" works and in Full Suspension trim is unbelievable. Makes 26" bikes obsolete at a stroke.
Came with Roundagon 160 rotor on the front which is useless. 185 Clean Sweep rotor however is the business. Going tubeless and low pressure transforms it even further in the damp back woods.