Bianchi Roadie
By tashi on 07/31/2008.
Bike tags: Road bike | Bianchi | celeste | dura ace | regal | steel | Touring |
Click to view other photos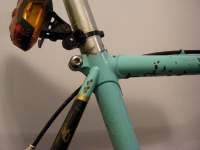 Bianchi Lugged steel, unknown tubing or model

Dura-Ace/Superbe Pro hybrid, unknown
Anyone know the model of this bike? I really like it; it's fast, comfy, fits, and can tour when I add the BOB to it!