BRIDGESTONE SUPER DIAMOND ROAD
By retrosteel on 07/28/2008.
Bike tags: Road bike | bridgestone | dia compe | japan | kabuki | lightweight | Sakae | seventies | shimano 600 | Tange |
Click to view other photos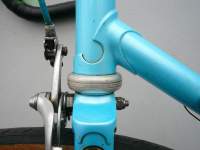 Bridgestone 4130 double butted CroMo Steeltubes 60cm

Bridestone 4130 double butted CroMo Steeltubes , Shimano 600 headset
This was Bridgestones Top of the line in 1982. Usually Dura Ace equipped, but comes along here with Shimano 600 EX (probably for the dutch market)+ Dia Compe - Bridgestone brakes. A real cool ride with professional quality (japanese professional riders loved these bikes). Nice finish in Kabuki style. Sold in February to a guy who worked in a bike shop in those years. he was looking for a bike like that ever since then.
watch out for more stuff on my website: campagnero.jimdo.com