SOLD: Cannondale Track 3.0 1992 Featured Bike!
on 02/4/2010
By paramount on 07/25/2008.
Bike tags: Track bike | aluminum | cannondale | Seattle | suntour superbe
Click to view other photos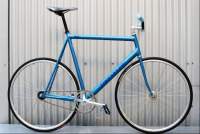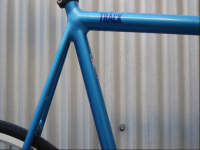 1992 Cannondale aluminum 63cm

Nitto Pearl and Nitto anodized risers

Cannondale Tange steel fork, Suntour Superbe Pro

Suntour Superbe Pro laced to Mavic Open Pro

Suntour Superbe Pro laced to Mavic Open Pro

Kingsberry USA seat post, Fizik saddle

Suntour Superbe Pro track pedals with Toshi singles, D.I.D. Racing Pro chain
I've always liked the looks of these 90's Cannondale track bikes. Got it from the original owner, who'd raced it a bit at Marymoor when it was new, and then put it away after only a few seasons. This one is incredibly clean and original - though I'm riding this on the street so I had the wheels rebuilt with clincher rims, and I went with riser bars, a larger cog, and added a new seat -- but other than that it is original. Full Suntour Superbe Pro track group. Very stiff aluminum frameset, but not as harsh as I feared. This bike has a tighter geometry than any of my other bikes, it's extremely light, and lots of fun to ride.