This is my bike Ron
By hollumns on 10/29/2006.
Bike tags: Fixed gear | Commuter | 1972 | arabesque | b-17 | Brooks | city bike | commuter | cyclassic | lugged | nitto albatross | powdercoat | red | Reynolds 531 | ron kitching | shimano 600 |
Click to view other photos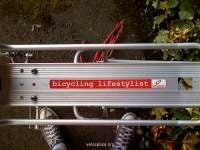 1972 Ron Kitching "Cyclassic" Reynolds 531 lugged steel, red powdercoat

Nitto Albatross bars, nameless quill stem-- probably SR

531 fork and nameless stock headset

Araya 27" with Kenda 27x1 1/4 whitewall tires

Shimano 600 Arabesque crankset, Shimano BB

Brooks B17 Honey saddle, fluted SR Laprade seatpost

Shimano chain, MKS touring pedals

Shimano 600 Arabesque FD and RD, new 6-speed Shimano freewheel, Shimano R440 brake levers, Soma Eurotrip fenders
Ron was a Craigslist find that I bought with the intent to convert it from an old club racer to a slick porteur/city bike. It's a Ron Kitching "Cyclassic"-- an English lugged road frame from the early '70s that was originally set up with drop bars. The frame was baby blue, but the paint was a mess-- it was a dinged-up rust bucket. We had it sandblasted and powdercoated a deep red and rebuilt it with Nitto Albatross bars, a Brooks B17 saddle and Shimano 600 ("Arabesque") shifters and derailleurs. It rides like a dream. The fenders are Soma Eurotrips in bright red that matches the frame, but only coincidentally.
Ron is beloved far and wide-- every time I lock him up somewhere, I always catch people stopping to admire him. If the bikes had a prom, Ron would be king. Girls smile and wave coquettishly as we pass by. Fame and fortune are heaped upon Ron by all who encounter him. Women want him, men want to be him. He makes whatever bike my boyfriend is riding feel ignored and unloved. Such is Ron's power.
Ron recently got a rack and a set of red Ortlieb panniers (front rollers-- small for his dainty self) and I'll be damned if I don't love this bike even more unreasonably now that I can haul shit with it. I also added a Japanese aluminum bell to the stem from Velo Orange.