RRB Cycles Custom Track Bike 80's 57x54, Tight!!
By Caseygroh1 on 07/20/2008.
Bike tags: Track bike | concor | Custom | dura ace | handmade | Milwaukee | RRB Cycles | Track | wisconsin |
Click to view other photos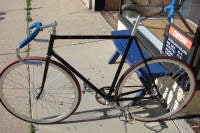 RRB Cycles Custom made track frame 80's

nitto b123 34cm, cinelli unbranded steel track

formula on bright silver deep v

formula on bright silver deep v

San Marco Concor Laser, Campagnolo 2-bolt Record

Specialized Branded 80's Track pedals made by MKS
RRB cycles is a bike shop in illinois. This frame was custom made for a racer named Mike Sevener in the 80's. I built this up using mostly period correct parts. A few things will be changing, like the wheels, and it is going to get painted. I've been riding this for about a year and it's my favorite track bike thus far.