Bone Wagon
By Timmy Mac on 07/10/2008.
Bike tags: Road bike | bikes not bombs | Boston | in progress | motobecane | nomade |
Click to view other photos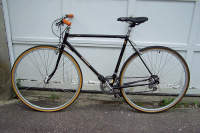 My first bike in many years. Gonna throw some drop handlebars and clipless pedals on it. Bought it at Bikes Not Bombs, because I want to support their incredible work. Will likely get a better bike when my general level of badassery justifies it.