GONE | 1989 Schwinn Caliente.
By eleni on 07/08/2008.
Bike tags: Road bike | 10_Speed | caliente | chicago | Female | female frame | fenders | pink | schwinn | steel |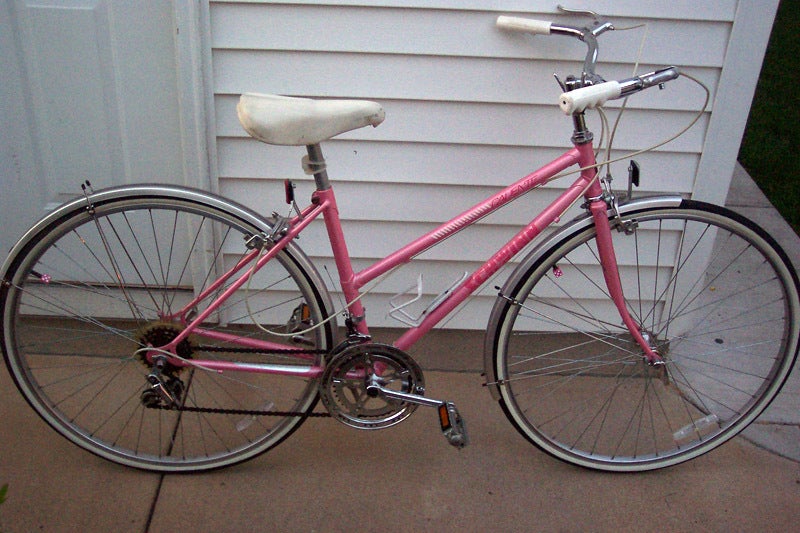 Click to view other photos

1989 Schwinn Caliente (color: tea rose).

Wald Low-rise handlebars.

Araya alloy quick release rim (from 1988 Schwinn World Sport).

Araya alloy quick release rim (from 1988 Schwinn World Sport).

San Marco Anatomic (from 1986 Schwinn Le Tour).
She's a tank. Nearly every component is steel, so she's heavy as hell, but I use her to cruise around the neighborhood so it's not that bad.
I added the fenders, change the seat, changed the handlebars, and bought the new white wall tires. I plan on removing the plastic piece behind the rear crank. In the future I may upgrade to aluminum components to shed weight, I'm not sure if it's really worth it right now. All in all, this was a fun little project.
Update on 31 March 2009:
I've changed the original rims out for aluminum quick release rims. I've also changed the seat to fit the color scheme better. I'm currently looking for white plastic pedals to replace the steel ones on there now.
Update on 30 June 2011:
I traded (most of) this bike to my best friend's mom for this: 1985 Frankenstein World Sport. It's much lighter and much more practical for the type of riding I do. The Caliente was mostly just sitting around looking pretty instead of being ridden, and that made me sad since I put so much into it.