1983 De Rosa Professional
By abstrait on 07/03/2008.
Bike tags: Road bike | 59cm de rosa | campagnolo super record | cinelli 1a | Columbus SL | de rosa | de rosa bicycles | de rosa professional | de rosa super prestige | derosa | Ferrari red | italian | mavic GL330 | NC | rigida score | selle san marco concor | selle san marco regal | squadre prof | super record | superbe pro | ugo de rosa | veloflex pave | vittoria corsa cx |
Click to view other photos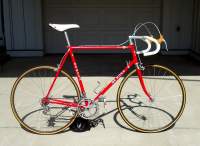 This '83 De Rosa Professional is another daily rider and one of my favorite frames,
right up there with the best I've been on. The Professional is often mistakenly called
Super Prestige from the TT sticker signifying the season long competition which
Merckx nailed in 73,74, and 75. Made of Columbus SL, it has rather beefy seat stays
and the characteristic diamond shaped chain stays, all adding to a more rigid rear triangle.
Ultimately, one must ride one of these machines to see what the fuss is all about; simply
put, an Ugo De Rosa bike just feels "Right", this whether hammering the beast,
throwing it into a corner, or taking some sketchy decent. It's light and responsive, with
an amazing ride exhibiting an ability to communicate the road as well as respond to your
commands. Subjectively speaking, it seems to accelerate nicely, and simply feels even more
alive with soul. The De Rosa conveys an exceptional conglomeration of performance, feedback,
and grace.
The preferred wheelset is the Mavic GL-330 with the Vittoria Corsa CG Squadre Prof tubs,
although the beast also does well with the Veloflex Pave and favorite Mavic Open 4 CD,
which still hold the best all around vintage clincher. Moving to the Mavic
GL 330 combo is eye opening although I also like my Rigida Score w/Veloflex Pave's even
those these wheels are somewhat fragile.
1900px shot w/Cinelli Unicanitor & Mavic Open CD/Rigida Score/Veloflex Paves
http://i-vol.com/bikes/photo_de_rosa_professional_3.htm
This is definitely another "I'll never sell it" option. I just love the 80s
Italian bike geometry. There's nothing quite like it, although I have an
equal passion for my three 70s options, the Pogliaghi Italcorse (not pictured),
Raleigh Professional, and Raleigh Professional Track. But the De Rosa, Ciocc, and Colnago
Super all offer that early 80s take that is addictive as a designer drug.
- kh
More photos: http://i-vol.com/bikes/de_rosa_professional.htm
_____________________________________________________________________________
Frame & Tubing
'83 De Rosa Professional ~ 59.5cm C-C ~ 58.5cm TT ~ Columbus SL Tubing ~ Campagnolo Dropouts
Fork and Headset
De Rosa w/Chrome Engraved Crown & Heart cutout Lugs (Columbus SL) ~ Specialized/Campagnolo SR
Handlebars and Stem
Cinelli Giro D' Italia 64-39 ~ Cinelli 1A 140mm & 115mm ~ Ambrosio Bike Ribbon
Ditched the Bike Ribbon, too thick. Back to ye olde Benotto Cello Tape
Brakes
Campagnolo Super Record Calipers w/Pads & Super Record Levers ~ Ame Anatomical Hoods
Front Derailleur
Campagnolo Super Record (Braze-On)
Rear Derailleur
Campagnolo Super Record
Shifters
Campagnolo Super Record
Gearing/Freewheel
Regina Extra 7 (13,14,15,16,17,19,21)
Crankset and Bottom bracket
172.5 Campagnolo Super Record Strada 52/42 & Phil Wood Ti BB
Pedals and Chain
Campagnolo Superleggeri w/Campagnolo Alloy Clips & Alfredo Binda Straps / Regina
Saddle and Seat Post
Selle San Marco Regal Ti, Concor Supercorsas, Cinelli Unicanitor #1 / Campagnolo Super Record Post - 27.2
More seat post on the De Rosa due to experimentation with slightly smaller frame
than I usually take, going for more post and less frame bulk.
Front wheel
Mavic GL 330 (36) ~ Mavic 550 RD Hub ~ Vittoria Corsa CG Squadre Prof tubular
Mavic Open 4 CD (36) ~ Campagnolo Record ~ Veloflex Pave
Rear wheel
Mavic GL 330 (36) ~ Mavic 550 RD Hub ~ Vittoria Corsa CG Squadre Prof tubular
Mavic Open 4 CD (36) ~ Campagnolo Record ~ Veloflex Pave
Water Cage
Vintage TA
Weight
20.5 lbs