Eddy Merckx Corsa Extra-Faglum 1988/1989 Featured Bike!
on 07/22/2010
By Timo on 06/21/2008.
Bike tags: Road bike | columbus | eddy merckx | fast | road | slx |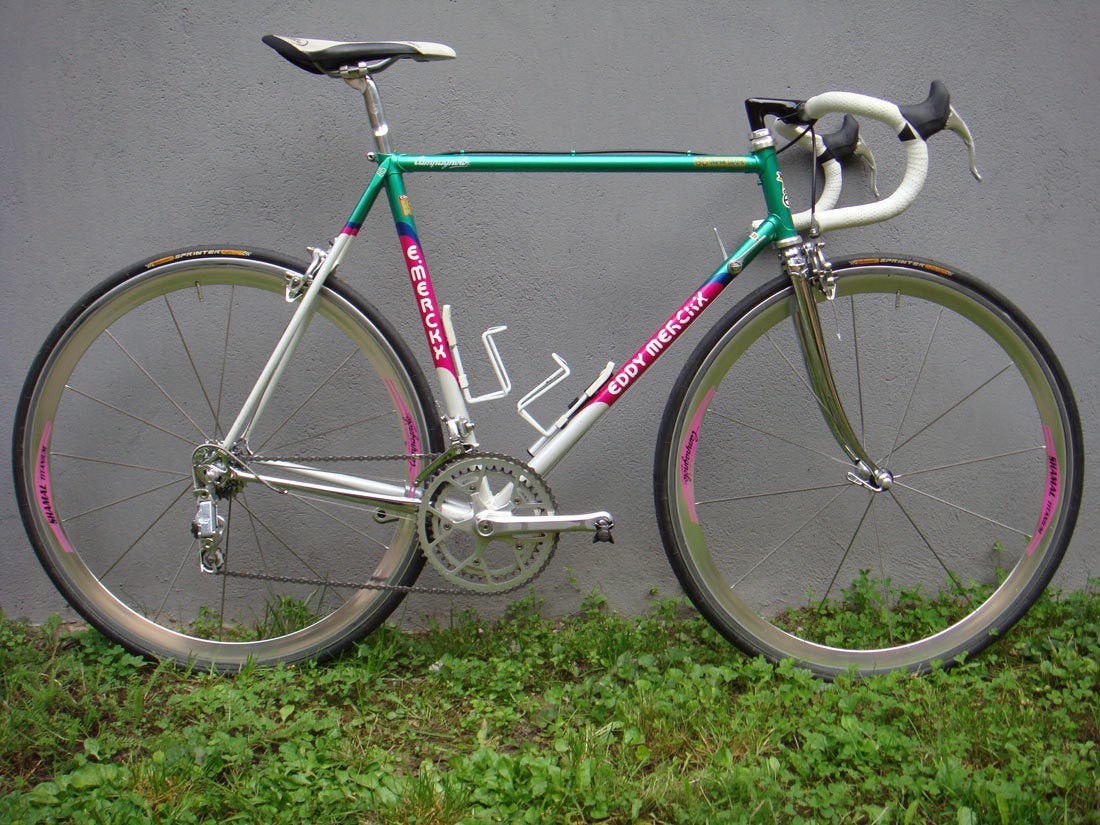 Click to view other photos

Eddy Merckx Corsa Extra (Fåglum brothers Swedish) 55cm Columbus SLX tubing-Campagnolo tips & rear drop-outs

Cinelli 66's old logo , 3TTT Colnago 100mm

E.merckx , Compagnolo Chorus

Campagnolo Shamal, Continental Sprinter tubular

Campagnolo Shamal 8 Speed record cassette ,Continental Sprinter tubular

Campagnolo Triomphe cranks , Campagnolo Triomphe Bottom Bracket

San Marco SRX , Campagnolo Triomphe

Crank Brother Egg beaters C, SRAM

12-23 Campagnolo 8 Speed cassette .
**UPDATE**
I have received some more news about my frame set , this Team Stuttgart team color painted frame that was imported here in Sweden was also know as the "Team PK-Banken scheme" hopefully more to come later .
This E.Merckx was imported by the Fåglum brothers here in Sweden and hand built for the Swedish market , the frame is a 1988/1989 Corsa Extra . Wheni received this frame i changed out all the stock components because i had a almost unused Triomphe group Set just waiting for a worthy frameset . NOS parts are bars,hubs ( front & rear) , rims ( front and rear )rear derailer .
This paint scheme is identical to the E.Merckx Team Stuttgart , but it could ahve been a possible over manufactured frameset and the Fåglum brothers imported them to Sweden . I havent actually seen any other fåglum framesets here in Sweden but apparently there were many sold .
if anyone has any more info about this frame set please , all info is very welcomed .
link to a broschure of this model, Top right on the picture
http://www.cadre.org/Merckx/catalog/Merckx%20CE-Crescent%20320-91.JPG.640x480.JPG
Cheers T