Fuji Track Pro - PINK AND GOLD!!!!
By ludikriss on 06/01/2008.
Bike tags: Fixed gear | aerospoke | fixed | FTP | Fuji Track Pro | gold | hed3 | pink | Sexy | white |
Click to view other photos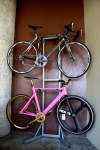 Nitto gold risers, Dimension 90mm stem

Carbon Fuji, Campy Record headset

Sugino Gold Messenger 46t

Nitto Gold seat post, Selle Italia SLR

Pink MKS sylvan track, Izumi Super Toughness
wanted something different. i think it worked out....