Trek 400 [Fixed-Gear]
By Analog on 09/27/2006.
Bike tags: Fixed gear | fixed-gear | Trek | wisconsin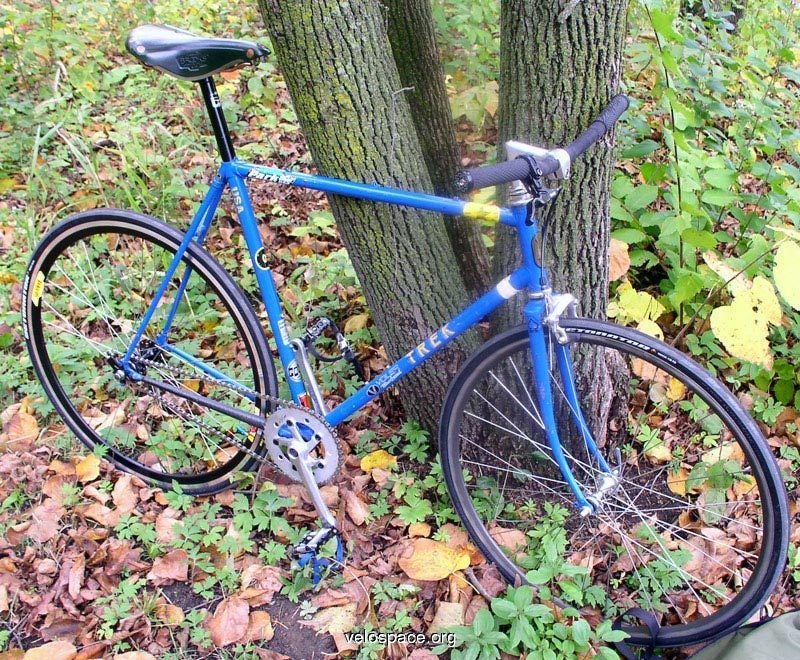 Click to view other photos

Generic Handlebars, Suntour Stem, Primo Grips, Hockey Tape

Trek Fork, Unknown Headset

Shimano 600 hub, stainless spokes, to a Matrix Rim. Maxxis Detonator (Grey)

Formula Fixed/Free hub, Wheelsmith double-butted spokes, black brass nipples, to a black MSW Velocity Deep-V rim. Detonator

Sakae CR, Shimano Cartridge BB, Rocket Ring (44t, 1/8")

Brooks B17 Champion Special (Green), Haro Seatpost

Dimension Pro Mountain Pedals, KKT Steel Clips (NJS), Random Straps, Sram PC1 Nickel Chain.

44x15 (Dura-Ace Track 15t, 1/8"). Odyssey Monolever - Trigger Style, Shimano Dual-Pivot Caliper
My Trek 400 conversion. My speedy, light (relatively speaking), simple, comfortable, commuter/racer/around-town/trick bike.
It's kind of a mutant, but I love everything about it.