Frankenbike
By awlawall on 04/30/2008.
Bike tags: Fixed gear | Single speed | cheap | conversion | fixed | frankenbike | frankenfixed | ghetto | green | homemade | love | pabst | PBR | Rad | Sakae | Sweet | univega |
Click to view other photos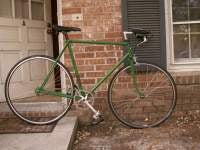 SR stem and chopped SR bars

the same bargain Vueltas that everyone has

Sakae CR crankset and old cup and cone style BB

Mosh BMX racing saddle and original seat post (its stuck)

el cheapo pedals from Dick's and standard KMC 1/8th chain

48 - 17t (was running a 16 til I realized it was eating away at my tires with every skid)
this is my first fixie, but I've had it for a year and a half...this is its 3rd paint job (a new paintjob is around the corner). It used to be super trail worthy with a 40 - 16t, wide rims and 700x35 cyclocross tires. Its seen various changes and will probably see more once I get something nicer and turn "ol frankie" here in to something else.