retrodirect
By reignpdx on 02/28/2008.
Bike tags: Road bike | Commuter | 2 speed | 26 inch conversion | commuter | gearing | raliegh | retro direct | retrodirect | two speed | vintage |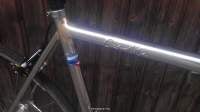 flipped cruiser, long sr, custom leather wrap

stock fork for 27 inch tires, tange headset

26 inch with 1.5 metro commuter slicks

26 inch with 1.5 metro commuter slicks

sugino road 170, stock raleigh

recovered cruiser saddle from parts bin and tool pouch made from same leather as bar wrap

pedals from raleigh 3 speed roadster with stamped heron, double lenght track chain

front 44 Sugino road, big freewheel back is 22 tooth dicta, small is 16 tooth claws, tensioner and mount hand made.
I found this huge raliegh that was pretty beat up, repainted it, converted it to 26 inch wheels to make it ridable then started from some drawings in a bike history book. back pedal is 49 inches and forward is 68.